The eyewear industry is an old one.
Although the current scientific and technological progress has given rise to a variety of functions, the vast majority of companies are only working on lens materials and production processing.
The downstream terminal market, it is necessary to configure professional equipment and professional optometrists in stores to provide consumers with professional services such as optometry, dispensing, lens frame assembly, etc., did not enjoy too much convenience brought by technology, optometry is still the same as it was 100 years ago.
In addition, approximately 250 million people worldwide do not have access to optometry prescriptions and appropriate eyewear.
Israeli innovation company VirtuOptica caught the problem. They have developed two products: a game automated optometry integration that can be installed on any optometry device; and an Opticular 360 portable VR device that allows users to automatically get a prescription for glasses by playing a very simple interactive game.
Opticular 360 also supports optometrists to interactively communicate with patients via telemedicine to prescribe when needed. As a portable VR device, Opticular 360 facilitates patients to dive into an interactive menu to select frames, colors and multifocal options based on personal preferences.
VirtuOptica's patented automation technology is based on an interactive 3D game that automatically analyzes the way a patient's brain perceives visual information to provide optometrists with fast and accurate reference data. This groundbreaking technology is a new venture in optometry, using advanced technology to combine biosignal marker interpretation and human-machine interfaces.
But what made VirtuOptica think of using VR combined with brain-computer technology to create such a product? And what makes this hot land of Israel keep coming out with innovative products that affect the world?
With these questions, Vcbeat interviewed Ori Raviv, the founder of VirtuOptica, to try to unveil the mystery of innovative solutions from Israel.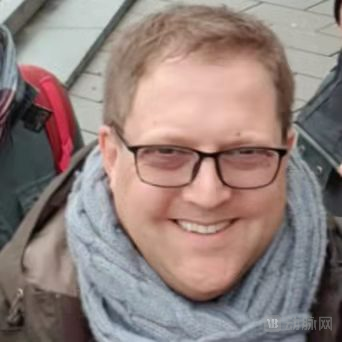 Ori Raviv: VirtuOptica founder
For the convenience of readers, Vcbeat has edited the text without changing the original meaning.
Vcbeat: Please share your personal background and how you got into the healthcare field?
Ori Raviv: With over 20 years of experience in complex product development and management, I have always been interested in connecting software to user behavior.
For the past decade, I have focused on researching and developing hardware and software devices for brain research labs and startups in the medical technology space. My sister, Dr. Chen Ryder is a Neuroscientist and the head of a Brain Research Institute, so brain science is a frequent topic of discussion in our living room. I am very interested in this area and I think brain science has a huge potential, especially in the medical device field.
Vcbeat: Why did you choose to start your own business? Can you share the details of how VirtuOptica was founded and how the core team was formed?
Ori Raviv: Usually founders of startups say they follow their dream and then go out and make it happen. But that wasn't the case with me. In my case, that dream came to me physically while I was sleeping. It happened the night after I went for a vision test at my optometrist to get a new pair of glasses.
During the exam he always had to ask me over and over which lens was clearer, A or B, A or B. I found it very frustrating at the time, and it was hardly different from my great-grandmother's time.
After I got home from my glasses prescription, I remember it was around 4:00 a.m. I had a dream about all the features of this product now. I got up to record the product details in my computer and then went back to sleep.
When I woke up in the morning, I couldn't believe if it was a dream or reality. But when I opened my computer and found all the content there, I was very excited. From that moment on, I decided that this was a mission in my life. This is the career I want to go into.
So I went and teamed up with Dr. Andrey Markus to do R&D with, who had been my sister's colleague, also a brain researcher. The initial product was actually a bicycle helmet and VR combined out, heavy to wear, but it did work. Now we have optimized and iterated to the fifth version, and the product form has been greatly improved.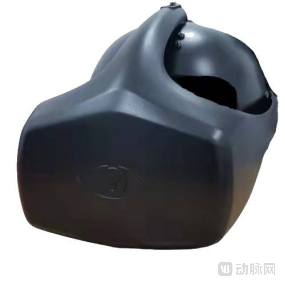 Figure 1. Opticular 360 version 1(2017)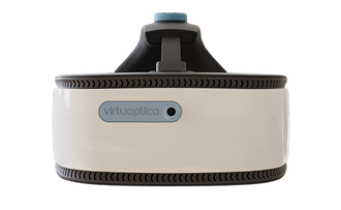 Figure 2. Opticular 360 version 5(2022)
Breaking the traditional optometry model
and service boundaries
Vcbeat: That is actually a "dream" come true. So what specific pain points does your product address?
Ori Raviv: This is actually a new way of doing optometry. First of all, we have liberated optometrists from the technical side. Many optometrists tell us that after all their expertise, they still have to be here all day asking "A or B" questions.
Our equipment is allowing them to do what they do best and sell glasses, saving them the time of asking patients. Customers, too, don't like the long questioning process. They prefer to solve problems in an entertaining way.
Our products can also help people who don't have access to professional optometrists, such as bringing equipment to remote and poor areas where optometrists can connect to users via telemedicine services to write prescriptions. What we are doing is to better serve more people and drive this industry to new heights of technology.
Vcbeat: So basically this product can simplify the whole process of eyes prescription.
Ori Raviv: Yes, and with more flexibility. Currently, an optometrist can only serve the community around his city. With our equipment, the boundaries of an optometrist's services can theoretically be expanded indefinitely, and it's even possible to serve users in another country.
Vcbeat: It does benefit more people. A great team is definitely behind a quality product, and we'd like to learn more about VirtuOptica's company culture.
Ori Raviv: Our culture is to create interesting and cutting-edge solutions that are different through multidisciplinary convergence, addressing the needs of the optical industry on the one hand and the needs of our customers for new and interesting experiences on the other.
At the same time, we want to make sure that brain science, gaming, VR and all these combined hardware and software solutions can be adopted by everyone, while meeting legal and regulatory requirements.
Vcbeat: What do you think the outbreak has done to VirtuOptica's business, positively or negatively? What lasting changes have been made to the entire healthcare system?
Ori Raviv: The negative side is that our teams have had to work separately. But the more positive is the ability to see that technology is more relevant than ever.
In particular, our products allow for contact-free dispensing for both optometrists and consumers, making everyone feel at ease and safe. I think the epidemic is pushing the entire healthcare industry to adapt, and one of the directions is to enable medical devices to automate and standardize their operation, especially assisted decision-making as well as telemedicine service offerings.
Vcbeat: What other challenges do you see in your current and even future business development?
Ori Raviv: The biggest challenge still comes from people's conservative attitudes toward technology. Some people believe that the advent of technology has replaced human work.
While this is true in some cases, our ultimate goal is not to replace humans, but to provide better services to society with the help of intelligent machines. And not everyone is aware of this. So we want to tell people not to be afraid to embrace innovative technology, and that although our product disrupts the traditional way of serving people, it really works and can make a difference.
Keeping a close eye on the Chinese market
and looking for fellow partners there
Vcbeat: Do you have any plans to expand into the Asia-Pacific region, especially the Chinese market?
Ori Raviv: Of course, China has a huge market potential with hundreds of millions of people in need of innovative optometry services. Our team has been to China several times and is conducting a clinical trial in an eye hospital in China. So far, the feedback from this clinical trial has been positive.
Not long ago, we received Patents in China and U.S. for our product and automated vision exam for glasses prescription. Therefore, we are also looking for Chinese partners in the ophthalmology industry for mutual benefit, and we welcome interested parties to contact us.
Vcbeat: We've interviewed several other Israeli entrepreneurs. Needless to say, Israel can be considered a hotbed of innovation. What insights do you have into how Israeli companies foster innovation?
Ori Raviv: Innovation for us is something that we have to do in order to survive, we don't have any other choice. 74 years ago, my great-grandmother's and great-grandfather's generation had to support the establishment of this country. And there is very much wisdom here, so I think using our wisdom to innovate is the best thing we can do as individuals.
Otherwise, we're just a desert, neither close to the U.S. nor a populous country, and the only way to take us out into the world is through technology. And, generations of Israeli entrepreneurs have continued to inspire us forward with their own innovative practices.